Unius Celebrates 20th Anniversary Since Founding with Inspirational Seminar and Enjoyable Reception
This year marks the 20th year since Unius was founded in 1998.
We at Unius gratefully appreciate that it is only due to the support of so many people during a period that witnessed many profound changes in the field of intellectual property that we are now able to successfully observe our 20th anniversary.
On the occasion of our 20th year since founding, we had the great privilege of welcoming Doctor Hiroaki Suga, founder of PeptiDream Inc. and Professor of the Faculty of Science at the University of Tokyo, as well as Attorney-at-Law Yoichiro Komatsu, a widely recognized authority in the field of intellectual property litigation, to speak at a special seminar event that we hosted for our clients.
We would like to take this opportunity to sincerely thank Dr. Suga, Attorney Komatsu, and all who attended. We hope that everyone enjoyed the inspirational presentations by Dr. Suga and Attorney Komatsu, and we hope that you also had a pleasant time at the reception which followed.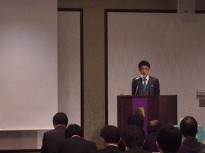 Unius Senior Managing Partner Kouichi Kajisaki recounts stories from the days of Unius's founding during the recent Unius 20th Anniversary Seminar